On behalf of the Organizing and Scientific Program Committee, we are pleased to invite you to participate in the 4th International Conference on Urban Planning - ICUP2022.
ICUP 2022 will take place on 10 – 11th November 2022 (Thursday and Friday) at Science and Technology Park (NTP) in Niš, Serbia.
---
ICUP2022 Topics of interest
The main topic of the Conference is URBAN LANDSCAPE AND ADDRESSING GLOBAL CHALLENGES. 
The main subtopics for the ICUP2022 Conference include, but are not limited to:
1. Connecting the city – from connected to smart
2. Heritage inspired - planning and design
3. Cities of the future – urbanization patterns, architecture and design
The conference is organized by the Urban Planning Cluster as the main organizer, and the Faculty of Civil Engineering and Architecture of the University of Niš, Faculty of Sciences and Mathematics, University of Niš, Chamber of Engineers of Serbia and NTP Niš as co-organizers. The aim of the conference is to bring together scholars, researchers and students from all areas of Urban Planning.
The official language of the Conference is English. All submitted papers will be double-blind peer reviewed. The scientific committee of 4th International Conference on Urban Planning -  ICUP2022 is composed of internationally recognized academics practicing in Europe, Asia and the USA.
Original research papers peer-reviewed and accepted by Scientific Program Committee will be published in the ISSN numbered Conference Proceedings.
DIGITAL PUBLICATION OF CONFERENCE PROCEEDINGS - SAVE THE PLANET
One person can submit 3 papers max.

ABSTRACT PREPARATION GUIDELINES FOR ICUP 2022
---
Important Dates
20

th

June 2022 - Abstract submissions
30

th

June 2022 - Response to abstracts
15

th

September 2022 - Paper submissions
10

th

October 2022 - Sending of reviewers' comments
25

th

October 2022 - Final paper submissions
&nbsp
Date of the 4th International Conference on Urban Planning - ICUP2022
10 – 11 November 2022 (Thursday and Friday)
---
Lecturers
So far confirmed keynote speakers at ICUP2022 Conference are: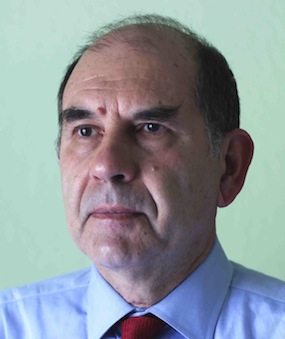 Nikos A. Salingaros, PhD, Professor at University of Texas at San Antonio
Dr. Nikos A. Salingaros is Professor of Mathematics and Architecture at the University of Texas at San Antonio, and is on the faculty of the Building Beauty Master's Program. He has held guest professorships in Architecture at the Delft University of Technology, Tecnológico de Monterrey, Querétaro, Mexico, and Università di Roma III. An internationally recognized architectural theorist and urbanist, he is known for his original contributions applying Mathematics to Architecture. Salingaros helped to establish and further extend new disciplines such as Biophilia, Design Patterns, Complexity Theory, Neurogeometric design, the Fractal City, and the Network City. He won the 2019 Stockholm Culture Award for Architecture, and shared the 2018 Clem Labine Award for Traditional Architecture with Michael W. Mehaffy. The author of seven monographs and almost 200 research papers, he directs Ph.D. students in architecture and urbanism at many institutions worldwide. Salingaros worked with visionary architect and urbanist Christopher Alexander for twenty years in helping to edit Alexander's four-volume book The Nature of Order. Mehaffy and Salingaros co-authored (together with other researchers) A New Pattern Language for Developing Regions (2019), an extension and update of the classic A Pattern Language (1977) by Christopher Alexander and colleagues, which has had a profound influence on software development. In the Planetizen surveys of "The 100 most important urban thinkers of all time", Salingaros ranked 11th in 2009 and 26th in 2017.
See Wikipedia entry: https://en.wikipedia.org/wiki/Nikos_Salingaros
---

Ali A. Alraouf, PhD, Head of CB, Development, CB and Research Unit-QNMP, Research and Training, Ministry of urban planning, Doha, Qatar
Prof. Alraouf is an architect and urban planner interested in research and practice related to architectural, urban, sustainable design and holistic planning. He was a Visiting Scholar at University of California at Berkeley-USA. He currently acts as head of Capacity Building, training, research and development unit at the Ministry of Municipality and Environment (MME). He is also the leader of Green Urbanism and Planning Group at Qatar Green Building Council.
---
Conference Fee Payment
Registration fee – early 60EUR/ regular 90EUR
(PhD students) – early 40EUR/ regular 60EUR
Early registration until 20th September 2022
"Thanks to a kindness of sponsors registration fee is symbolic and reduced"
The Conference fee includes admission to the Conference sessions, Conference Proceedings, promotional material and cocktail during the Conference.
Accommodation, travel expenses, gala dinner and excursions are not included in the conference fee.
Authors who has received the proof of the paper acceptance will receive the invoice for the Conference fee by email.
Conference fee payment deadline: 26 October 2022
---
Payment Details
Conference fee payment method is only via bank transfer. Please note that your payment needs to include all bank and transfer costs.
The data for the bank transfer is:
*For domestic participants in RSD -

Click here
Komercijalna banka a.d. Beograd
Nova železnička kolonija 10/II/14, 18000 Niš
Acc. No: 205-225315-39
With remarks: 4ICUP
*For foreign participants payment in EUR -

Click here
*For foreign participants payment in USD -

Click here
---
Contact
icup.conference@gmail.com
---
Scientific Program Committee
Ali A. Alraouf, PhD, Chairman, Head of CB, Development, CB and Research Unit-QNMP, Research and Training, Ministry of urban planning, Doha, Qatar
Slaviša Kondić,PhD, Urban Planning Cluster, Serbia
Milan Tanić, PhD, Urban Planning Cluster, Serbia
Aleksandra Mirić, PhD, Urban Planning Cluster, Serbia
Aleksandar Keković, PhD, Urban Planning Cluster, Serbia
Goran Jovanović, PhD, Urban Planning Cluster, Serbia
Vuk Milošević, PhD, Urban Planning Cluster, Serbia
Jasmina Tamburić, PhD, Urban Planning Cluster, Serbia
Slaviša Trajković, PhD, Full Professor, Faculty of Civil Engineering and Architecture, University of Niš, Serbia
Marko Nikolić, PhD, Associate Professor, Faculty of Civil Engineering and Architecture, University of Niš, Serbia
Ljiljana Vasilevska, PhD, Full Professor, Faculty of Civil Engineering and Architecture, University of Niš, Serbia
Milena Dinić Branković, PhD, Associate Professor, Faculty of Civil Engineering and Architecture, University of Niš, Serbia
Danica Stanković, PhD, Full Professor, Faculty of Civil Engineering and Architecture, University of Niš, Serbia
Ivana Bogdanović-Protić, PhD, Assistant Professor, Faculty of Civil Engineering and Architecture, University of Niš, Serbia
Perica Vasiljević, PhD, Head of Department of Biology and Ecology, Faculty of Sciences and Mathematics, University of Niš, Serbia
Aleksandar Radivojević, PhD, Full Professor, Department of Geography, Faculty of Sciences and Mathematics, University of Niš
Mića Stanković, PhD, Full Professor, Department of Mathematics, Faculty of Sciences and Mathematics, University of Niš
Milan Randjelović, PhD, Science technology park Niš
Jelena Živković, PhD, Faculty of Architecture, University of Belgrade, Serbia
Nikos A. Salingaros, PhD, Professor of Mathematics and Architecture at the University of Texas, San Antonio
Sonja Lakić, PhD, CY Cergy Paris Université
Zeynep Gunay, Assoc. Prof. Dr. , Istanbul Tehnical University, Urban and Regional Planning Department, Turkey
Sebnem Hoskara, PhD, Urban Research and Development Center (URDC) Eastern Mediterranean University (EMU) Famagusta, North Cyprus
Michal Chodorowski, PhD, University of Technology, Bialystok ,Poland
---
Organizing Committee
Miljana Ignjatović, Urban Planning Cluster, Serbia
Slavisa Kondić, Urban Planning Cluster, Faculty of Civil Engineering and Architecture, University of Nis, Serbia
Tanja Obradović, Chairman,Faculty of Civil Engineering and Architecture, University of Nis, Serbia
Vojislav Nikolić, Urban Planning Cluster, Faculty of Civil Engineering and Architecture, University of Nis, Serbia
Aleksandra Mirić, PhD, Urban Planning Cluster
Milica Igić, Faculty of Civil Engineering and Architecture, University of Nis, Serbia
Jasmina Tamburić, Faculty of Civil Engineering and Architecture, University of Nis, Serbia
Marija Marinković, Urban Planning Cluster
Milan Brzaković, Urban Planning Cluster, Faculty of Civil Engineering and Architecture, University of Nis, Serbia